The system will provide 4 hours of indoor light per day. It also has an all night outdoor wall pack.  The batteries will be at 50% depth of discharge after 2 days without solar power. 
Applications
Garage
Shop
Equipment Shed
Storage Container
Outdoor Lights
25 Watt all-night wall pack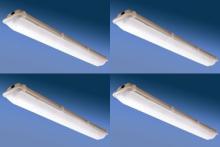 Indoor Lights
4 x 4 foot 12 volt 38 watt waterproof strip fixtures 4200 lumens
Control Panel
Solar Charger & Control Panel with NEC compliant Ckt Breakers
Lightning / Surge arrestor
4 x 230 AH AGM batteries

Solar PV Panels
4 x 280+ watt panel
Ironridge pv mounting rails with tilt legs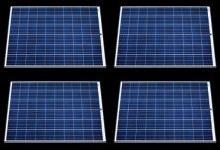 Plug and Play pre-made pv wires
Grounding rod and components
Cables
4 x 25 foot xlr cables for lights
Options
Motion Occupancy Sensor for Lights
200W 120v AC Inverter
Benefits
Free Solar Power and reliable LED lighting systems
Proven technology safe low voltage DC
Low installation cost Plug and Play does not require electrical wiring
Easily and quickly deployed in almost any location.
NO run Wiring from grid
NO cuts through existing roads, sidewalks or landscaping
NO Maintenance
NO Utility bill
Maintenance Free Batteries
30% ITC Credits from Federal Taxes for Commercial uses thru 2017
Pays for itself in the form of reduced installation, maintenance and servicing costs
Reliable operation 365 days per year at nearly any location.